INDEX
Zen Experience at Eiheiji Temple & A Stroll in the Temple Area
Kuzuryu River, a Mecca for Fishing and Kayaking Lovers
Eiheiji Town's Exquisite Gourmet Food Nurtured by Its Natural Features
Getting to Eiheiji Town
Eiheiji Town is located near the midstream of Kuzuryu River, the largest and longest river of Fukui Prefecture. Having a rich history, culture, and nature, the town also offers a wide range of local specialty foods and traditional food. Take a Zen trip, ZENTABI, around Eiheiji Town to discover its wonders and charms!
Zen Experience at Eiheiji Temple & A Stroll in the Temple Area
Daihonzan Eiheiji, a Soto Zen Buddhist temple, is the symbol of Eiheiji Town. The temple was founded by Zen Master Dōgen in 1244 as a place for practicing zazen, or sitting meditation. Today the temple is still full of many trainee monks devoting themselves to ascetic practices day after day. When you visit the temple, you'll be able to get a glimpse of their lives. You can also experience some of the training practices like zazen meditation and sutra copying. They are great opportunities for learning and experiencing the teachings of the spirit of Zen taught by Master Dōgen.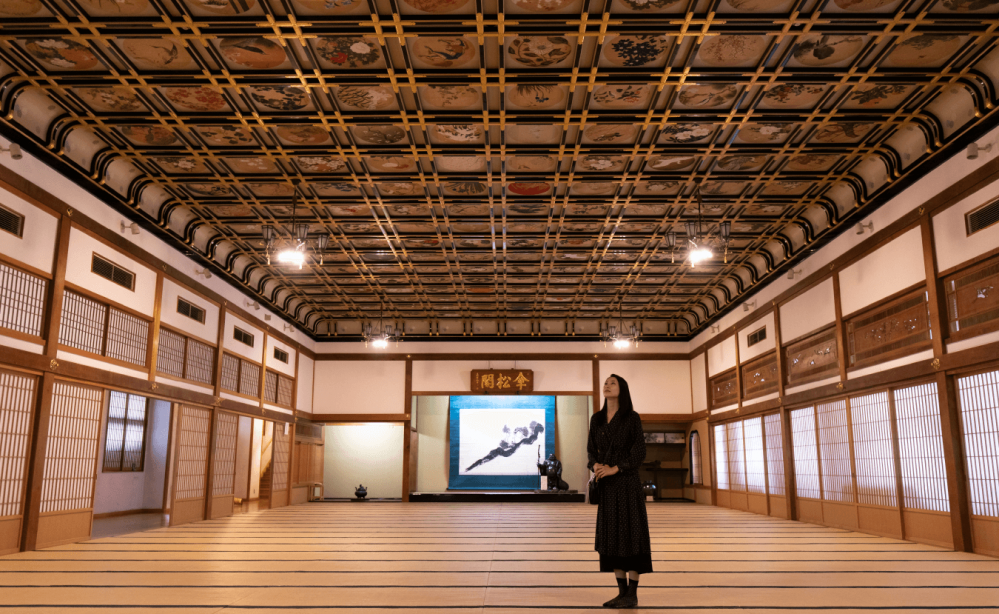 On the grounds of Eiheiji stands Sanshokaku, a reception hall built in 1930, with a room the size of 156 tatami mats featuring a ceiling covered with 230 splendid colorful paintings drawn by 144 well-known painters of that time.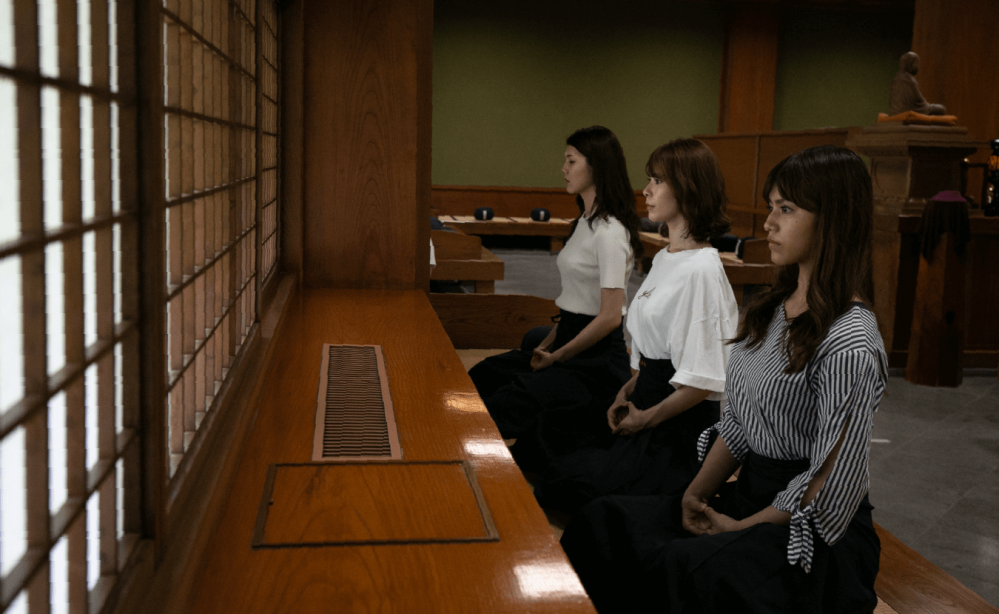 Zazen, or sitting meditation, is considered as the fundamental element of Buddhist training. The key is to regulate your body, breath, and mind. By sitting in the proper zazen posture and regulating your breath while letting go of all thoughts, your mind will be regulated naturally.
---
Daihonzan Eiheiji
5-15 Shihi, Eiheiji Town
TEL: 81-776-63-3102 (main number)
Hours: 8:30 to 16:30 (varies depending on the season)
Open year-round
* Check the website of Daihonzan Eiheiji for the schedules and information of long-term religious stays, one-day sitting
meditation and sutra copying, sermons, etc.
---
Commonly called Zen no Sato (the "village of Zen"), Eiheiji temple and the surrounding area is one of Fukui's most popular tourist attractions. The streets are lined with souvenir shops and restaurants while the approach to the temple has a quaint atmosphere. At the entrance of the temple's approach, you will find a tourist information center equipped with a touchscreen that offers AI concierge services in Japanese, English, and Chinese, and Hakujukan, an accommodation facility where you can experience the world of Zen.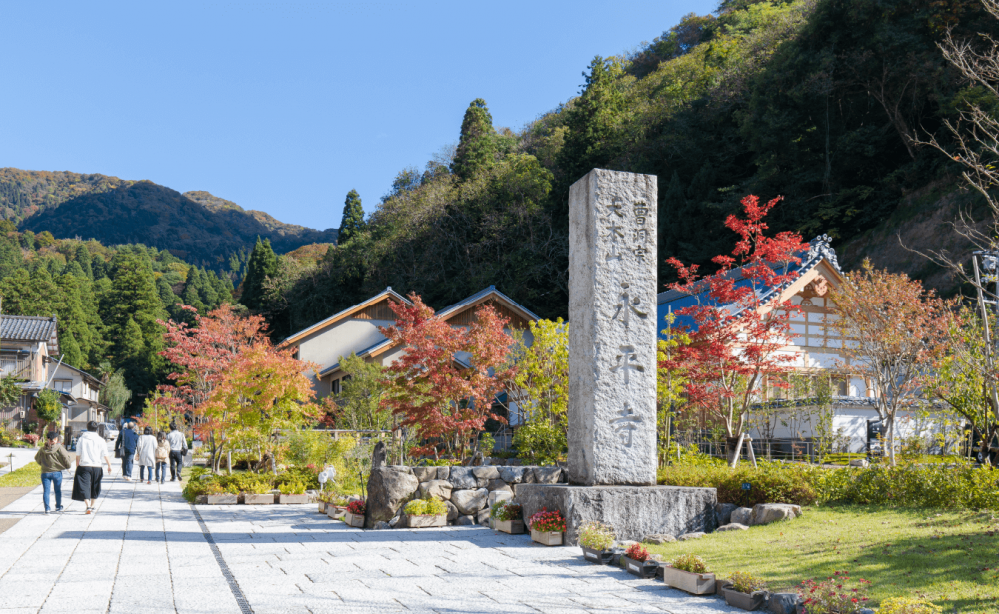 This approach to Eiheiji temple was restored based on an old map from the 17th century. We recommend heading to Eiheiji from this approach and then checking out the souvenir shops and restaurants on Monzen-dori street after visiting the temple.
Eiheiji Town offers a wide range of souvenirs and exquisite local gourmet food. Some menu items and products are available only in this area.

Transportation by ZEN drive, a self-driving car employing advanced technology, is available on an approx. 6-km long pathway that connects Higashifuruichi (Echizen Railway Eiheiji Guchi Station) and Shihi (Monzen). Convenient for getting to Eiheiji temple.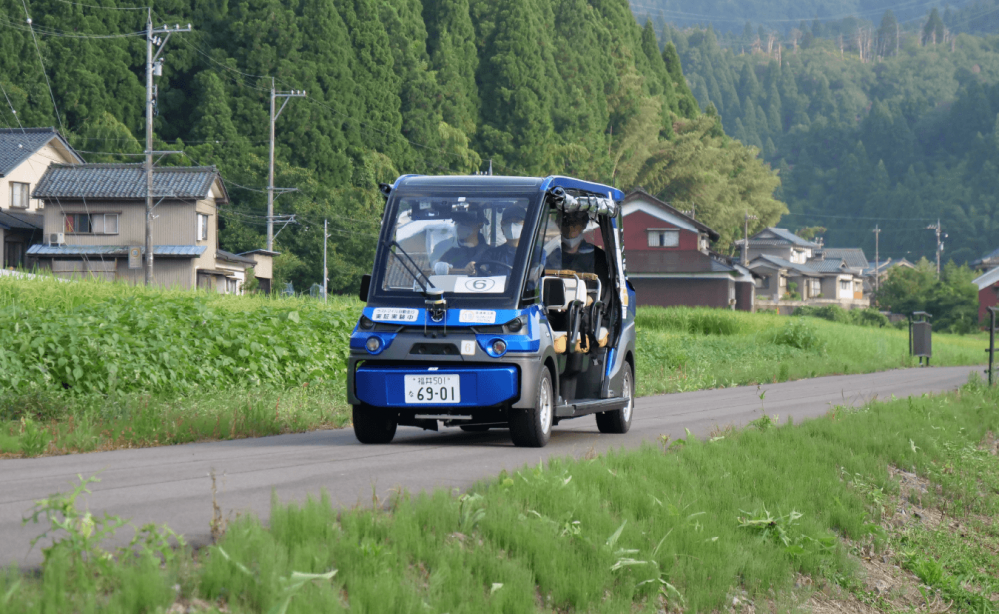 Up to 7 passengers can ride in a ZEN drive cart. Its maximum speed is 12 km/h. Enjoy the outside air and scenery while taking this leisurely ride.
---
ZEN drive
[Service Section] Weekdays: Approx. 6 km (approx. 40 min.) between Higashifuruichi and Shihi (Eiheiji Monzen), Weekends and holidays: Approx. 2 km (approx. 10 min.) between Aratani and Shihi (Eiheiji Monzen)
[Fares] Adults: 100 yen, Children aged 6 to 15: 50 yen, Children under age 6: free
* This service is not available during winter.
---
Kuzuryu River, a Mecca for Fishing and Kayaking Lovers
Originating in the holy mountain Hakusan, Kuzuryu River is known as the mecca of sweetfish (ayu) and cherry trout fishing. One of Japan's few freestyle kayaking venues, NAMINOBA, is located at this largest and longest river of Fukui. SHIK ANOBA, a venue for riding kayaks, E boats, and SUPs is being built as well.
Blessings from the river like sweetfish, cherry trout, and araregako (fourspine sculpin) are served in a variety of ways at the restaurants of Eiheiji Town.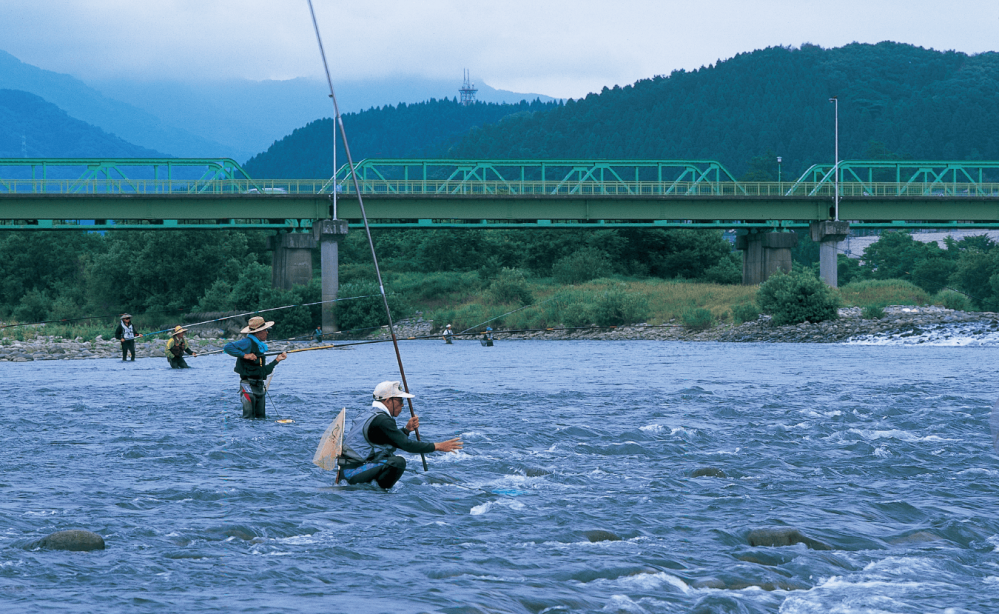 At Kuzuryu River, the fishing season goes from mid-June to November for sweetfish and from February to late May for cherry trout. The river is full of visitors enjoying fishing during those months.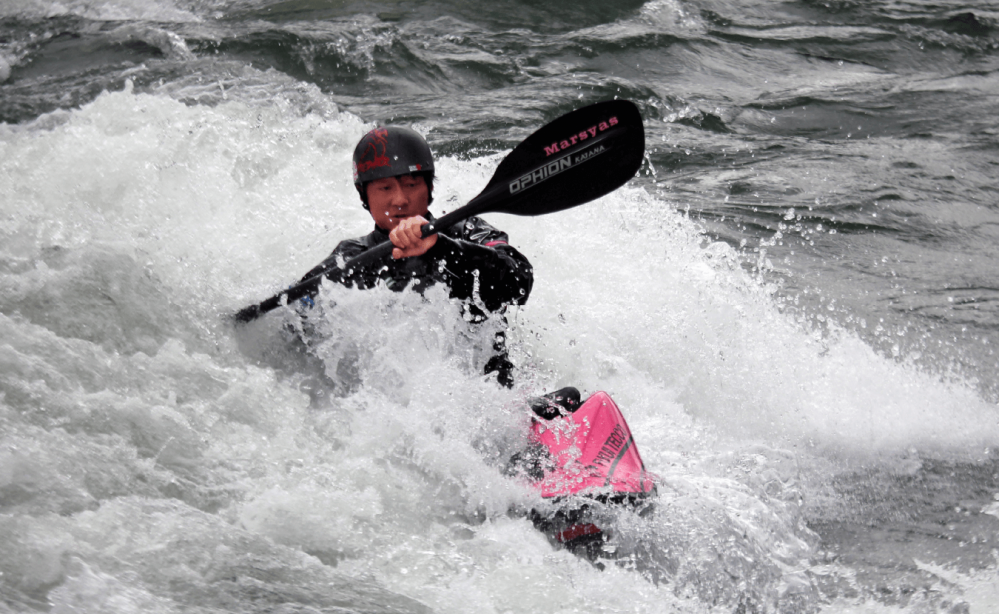 NAMINOBA is located at the upstream of Nakajima River Park. SHIK ANOBA is being built at the flatwater area of the upstream of Naruka Dam.
Eiheiji Town's Exquisite Gourmet Food Nurtured by Its Natural Features
Sweetfish, cherry trout, and araregako (fourspine sculpin) nurtured in the voluminous Kuzuryu River are known for their great taste. As Eiheiji Town is blessed with fertile soil and the clear streams from Kuzuryu River, crops like rice and vegetables are vigorously grown in the area. The town is also famous for its sake (rice wine) breweries.
Another special local gourmet food is Buddhist vegetarian cuisine, which is based on the spirit of Zen and adeptly made from vegetables, legumes, and grains.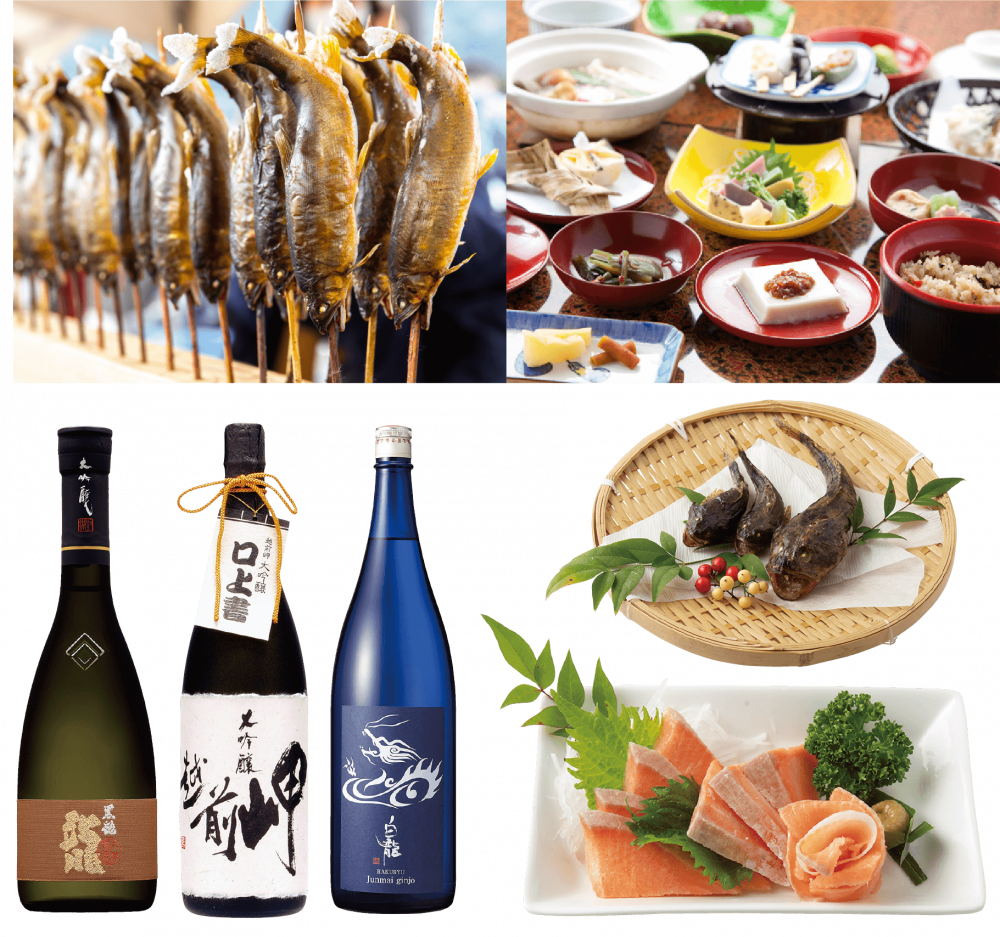 The exquisite sake brands of Eiheiji's three famous breweries‒‒Kokuryu Sake Brewing, Tanabe Shuzo, Yoshida Sake Brewery‒‒are a must-try! The town also offers many other local specialties like the wonderful fish from Kuzuryu River and Buddhist vegetarian cuisine.

Getting to Eiheiji Town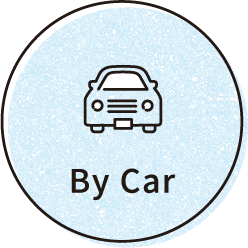 From Tokyo
Tomei Expressway → Meishin Expressway →
Hokuriku Expressway (Get off at Fukui-kita IC)
Approx. 6h 40min.
From Osaka
Meishin Expressway → Hokuriku Expressway (Get off at Fukui-kita IC)
Approx. 2h 40min
From Nagoya
Meishin Expressway → Hokuriku Expressway (Get off at Fukui-kita IC)
Approx. 2h 15min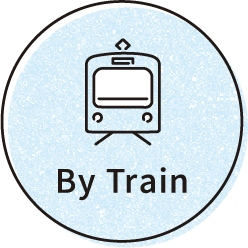 From Tokyo

Tokaido Line shinkansen train or limited express (via Maibara) → Fukui Station
Hokuriku Line shinkansen train or limited express (via Kanazawa) → Fukui Station

Approx. 3h 30min.
From Osaka
Kosei Line limited express → Fukui Station
Approx. 1h 50min.
From Nagoya
Nagoya Station → Fukui Station
Approx. 2hours
From JR Fukui Station
Echizen Railway → Eiheiji Guchi Station
Approx. 25min.

To get to Eiheiji Town from JR Fukui Station, take an Echizen Railway train or take an express bus of the Eiheiji Route operated by Keifuku Bus.

Taking an Echizen Railway train (Katsuyama Eiheiji Line)
After getting off at Eiheiji Guchi Station, take a bus operated by Keifuku Bus or ride on a ZEN drive cart, a self-driving car.
Echizen Railway Time Table / Keifuku Bus(Eiheiji Route) / Self-driving Car(ZENdrive)

Taking an express bus of Keifuku Bus
Express Bus Eiheiji Liner / Ichijoudani-Asakura Express Bus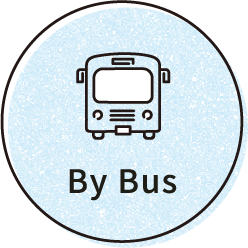 | | | |
| --- | --- | --- |
| From Tokyo | Expressway bus: Bus stop at Tokyo Station Yaesu South Exit → Bus stop at Fukui Station East Exit | Approx. 8h 10min. |
| From Nagoya | Expressway bus: Bus stop at Nagoya Station → Bus stop at Fukui Station East Exit | Approx. 2h 30min. |